How to Check Transmission Fluid

Maintaining appropriate fluid levels is an essential part of vehicle ownership and car maintenance, so it's important for every driver to learn how to check transmission fluid, just like learning what TPMS means.
---
How to Check Transmission Fluid: Step-By-Step
If you want to prevent leaks from turning into major problems, just take these steps on a regular basis:
Turn your car on and let the engine warm up. You can't get an accurate read on your transmission fluid levels when the engine is cold.
Locate the transmission fluid dipstick. In most front-wheel cars, you can find it to the right of the oil dipstick, but you should check your owner's manual if you don't see it.
Draw the dipstick out of its holster. Touch the fluid, and move it around between your thumb and your forefinger.
Most transmission fluid is clear, with a pink or red hue. If it's especially dark or viscous, you may need new fluid. If it smells burnt, or if there are small metal particles in the fluid, then you may be dealing with a larger problem.
To check your transmission fluid level, use a rag to wipe off the dipstick and then place it back into its holster. Draw it out once more and see how high up the fluid goes. If it's under the "Full" marker, you should add more fluid in short order.
If you have replacement transmission fluid on your person, you can add more using a funnel. Since too much transmission fluid can be as dangerous as too little, work slowly, and be careful to avoid overfilling.
If you need new transmission fluid, schedule service at your local Highland Park service center or purchase a replacement product at your local parts department.
---
How Often Do You Check Your Transmission Fluid?
Diligent drivers check all of their vehicle's important fluid levels at least once a month. So, while you're underneath the hood checking your transmission fluid, you should also take a moment to inspect your power steering fluid and your engine oil. Coolant and windshield wiper fluid should also be checked fairly regularly.If you notice any strange fluid pooling beneath your vehicle, it's a good idea to check all of your fluid levels right away. Sometimes, the color can help you identify the problem.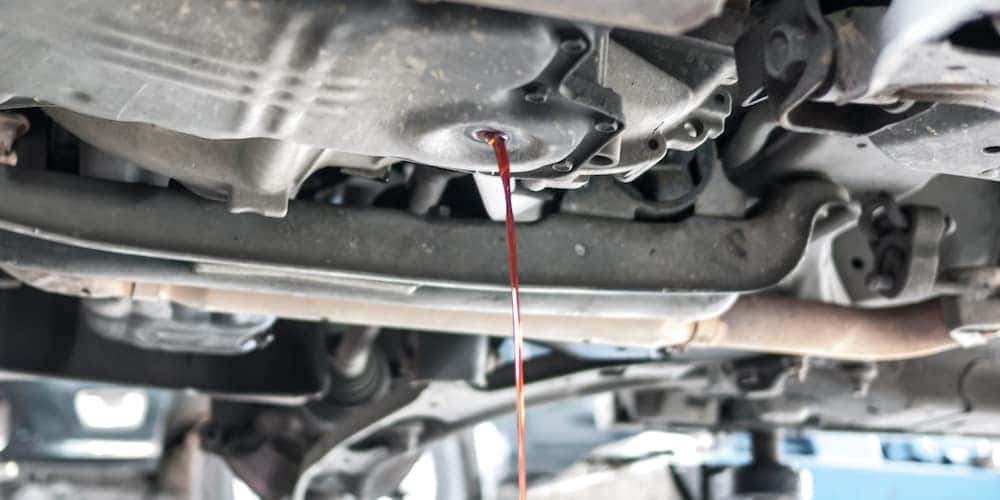 ---
Transmission Fluid Tips and Facts
The transmission is one of the most important parts of your vehicle, and it's also one of the most complex! While you're learning how to check transmission fluid, you should also take the time to learn these basic facts:
There are many different types of transmission fluid, so you should always make sure to use the type that's recommended by your owner's manual.
If your vehicle has a manual transmission, the fluid-checking process can be significantly more difficult. You will probably need to use a jack to access a plug located beneath the car.
If your vehicle has been hesitating while shifting gears, there's a good chance that the problem is your transmission fluid level. With that said, this issue could also be indicative of a deeper problem. It's a good idea to have your vehicle inspected before the problem worsens.
As long as you have no leaks, your transmission fluid should work fine for 50,000 to 100,000 miles. However, driving habits can affect how often you need to change your transmission fluid, so it's still important to perform regular checks.
---
Learn More About Vehicle Service with Muller Honda Pre-Owned
We don't have a standalone service department, but the experts on our team know just about everything there is to know about taking care of vehicles. If you're in the mood to keep learning, find out how to rotate your tires or how to properly wash a car today! As always, if you have any questions about this or any other regular vehicle maintenance tasks, we'd be happy to assist you! Start a conversation today.