How to Clean Car Floor Mats

Car floor mats handle a dirty job and as a result, they take a beating. Through all seasons and every Chicago adventure, your floor mats keep your cabin in pristine condition. They work to protect your vehicle from dirt, mud, snow, and the occasional spill and deserve some TLC every now and again. Ready to learn how to clean car floor mats like a pro? Follow our cleaning guide below and explore our other service tips to take your vehicle to the next level.
---
Supplies You'll Need
If you want to know how to clean car floor mats, you have to first gather the right supplies. You can pick these items up at most stores around Arlington Heights before getting started:
Rubber Floor Mats: Vacuum, rubber floor mat cleaner, stiff-bristle brush, hose or bucket of water, microfiber towel or a place to hang your mats
Carpet Floor Mats: Vacuum, carpet floor mat cleaner, brush, hose or bucket of water, wet vac if available, or a place to hang your mats
---
How to Clean Rubber Floor Mats
Once you have the right supplies in hand, learning how to clean rubber floor mats in your Gurnee garage is a breeze. Follow these steps to figure out how to clean car floor mats like a gearhead:
Remove your rubber floor mats to avoid any water damage.
Shake out the mats.
Thoroughly rinse the mats with clean water.
Gently scrub the rubber mats using a stiff-bristle brush to remove grime and debris.
Rinse the mats clean.
Hang up to dry or dry with a microfiber towel. Make sure mats are completely dry before replacing them.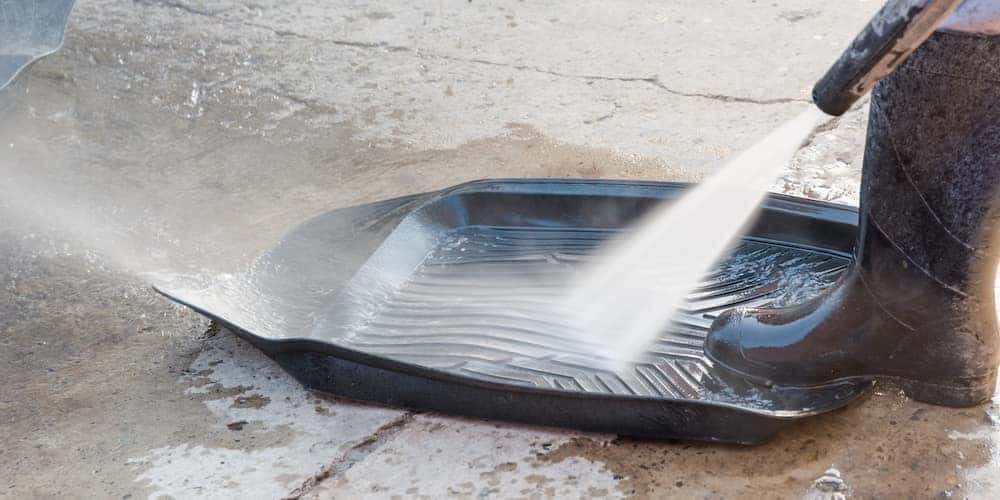 ---
How to Clean Carpet Floor Mats
If your vehicle has carpet floor mats, the cleaning process will be a bit different from learning how to clean rubber floor mats. Follow these tips for an immaculate interior:
Remove the floor mats from your vehicle.
Vacuum the floor mats to remove excess dirt.
Shake and strike the floor mats against a hard surface to rid them of lingering dust and smaller dirt particles.
Utilize a carpet floor mat cleaner and make sure to follow the application directions.
Scrub the mats to remove any stains or hard-to-remove debris.
Rinse completely.
If you have access to a wet vac, give the carpet another pass. This will rid the carpet of any leftover dirt and reduce the drying time.
Hang your mats to dry. Make sure they are completely dry before placing them back in your vehicle.
---
Need Help Cleaning Your Floor Mats?
Looking for some extra guidance on how to clean your car floor mats? Stop by our dealership in Highland Park and we can help make sure you are on track with your vehicle's maintenance schedule. We can also outfit you with the best supplies to have your vehicle shining like new! Contact us with all of your car care questions or if you are curious about the services we provide for drivers near Chicago, we'd be happy to help!
---
More from Muller Honda Pre-Owned
The Honda Civic maintenance schedule is crucial to maintain in order for your Civic to run in the greatest condition possible on the Highland Park roads. Make an appointment with us at Muller Honda Pre-Owned once you've figured out when you're due for your next service or if you're wondering about your vehicle's maintenance schedule. Our certified service…

From Arlington Heights to Gurnee, every driver has heard about that legendary Honda quality. From the rock-solid CR-V to the ultra-popular Civic, the Honda lineup is packed with phenomenal options like Honda LaneWatch that are built to go the extra mile. But what exactly makes Honda stand out from the other reputable brands on the road…

You know the top things to do in Schaumburg and the best sites to see in Chicago, but what are the most fun things to do in Gurnee? If you've never been to this charming Illinois suburb, you're in for a real treat! This town is home to plenty of exciting attractions, and if you're…