How to Do a Tire Rotation at Home

Tire rotation is an essential component of your necessary vehicle maintenance. It's both quick and easy to have the procedure performed at your local Highland Park service center if your TPMS goes off, but if you have some extra time after removing stickers from your car, you can save by embracing the DIY spirit. Find out how to rotate tires at home on your used Honda model with Muller Honda Pre-Owned, today.
---
How Often Should I Rotate my Tires?
If you drive a front-wheel drive or a rear-wheel drive vehicle, it's a good idea to rotate your tires at least once every 5,000-7,000 miles. Most drivers have the procedure taken care of at the same time that they get their oil changed. All-wheel drive vehicles can wear their tires down a little faster and should be rotated once every 3,000-5,000 miles.
We've written a lot on general vehicle maintenance guidelines, but it's always a good idea to check your owner's manual for more specific service instructions.
---
Is Tire Rotation Necessary?
The short answer is yes! Since vehicles don't distribute their weight evenly, the tires wear down at different rates, depending on where they're located. However, front-wheel drive and rear-wheel drive vehicles wear down differently, so you should check this guide to ensure you're performing the right rotation:
Front-Wheel Drive: Move the front tires to the back, retaining their respective left/right positions. Move the rear tires to the front, swapping the left for the right as you do so.
Rear-Wheel Drive: It's just the opposite with RWD vehicles. The front tires should be swapped, left for right, as they move to the back of the vehicle. You can move the rear tires up while keeping them on the side of the vehicle that they already occupy.
For the purposes of tire rotation, all-wheel drive vehicles can be treated as if they utilized RWD.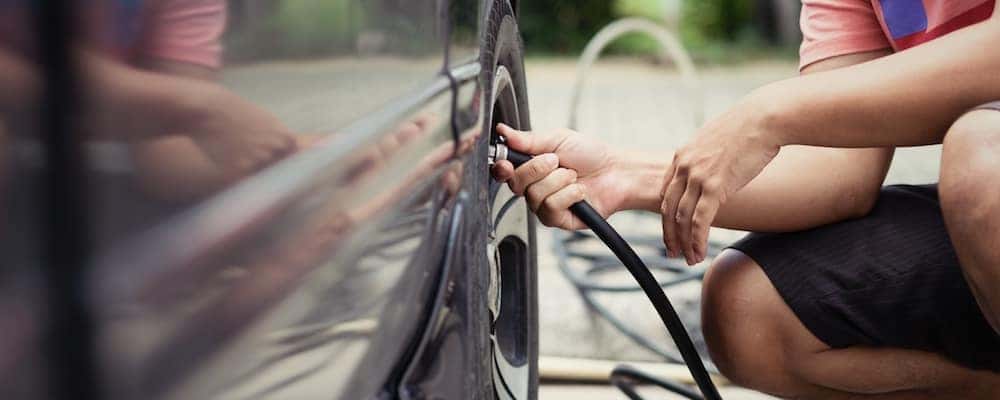 ---
DIY Service Tips: How to Rotate Your Tires
Here's what you'll need to get started:
Car jack
Lug nut wrench
A set of car jack stands
Then, take the following steps to rotate your tires at home:
Make sure that your parking brake is engaged.
Use the lug nut wrench to loosen all four of your wheels. Don't remove them yet.
Use the jack to lift up one wheel at a time, and place a jack stand beneath it.
Remove and rotate each tire one by one, according to the pattern laid out above. If you have time, check your tire pressure and refill your tires as you go.
Reattach each tire by holding it up to the wheel mount and screwing the lug nuts in by hand.
Once the vehicle is back on solid ground, use the lug wrench to tighten the bolts as much as you can. Work in a diagonal pattern to ensure even tightening and prevent unnecessary brake rotor wear.
---
Get the Help You Need from Muller Honda Pre-Owned
If you have any questions about the at-home tire rotation process, or just want to know how an expert would handle the change, you're always welcome to contact us to learn more today! We can also teach you how to clean car floor mats, how to check your transmission fluid, how to check coolant, understand the Honda Civic maintenance schedule, or take care of other necessary maintenance on your own.
More from Muller Honda Pre-Owned
The Honda Civic maintenance schedule is crucial to maintain in order for your Civic to run in the greatest condition possible on the Highland Park roads. Make an appointment with us at Muller Honda Pre-Owned once you've figured out when you're due for your next service or if you're wondering about your vehicle's maintenance schedule. Our certified service…

From Arlington Heights to Gurnee, every driver has heard about that legendary Honda quality. From the rock-solid CR-V to the ultra-popular Civic, the Honda lineup is packed with phenomenal options like Honda LaneWatch that are built to go the extra mile. But what exactly makes Honda stand out from the other reputable brands on the road…

You know the top things to do in Schaumburg and the best sites to see in Chicago, but what are the most fun things to do in Gurnee? If you've never been to this charming Illinois suburb, you're in for a real treat! This town is home to plenty of exciting attractions, and if you're…